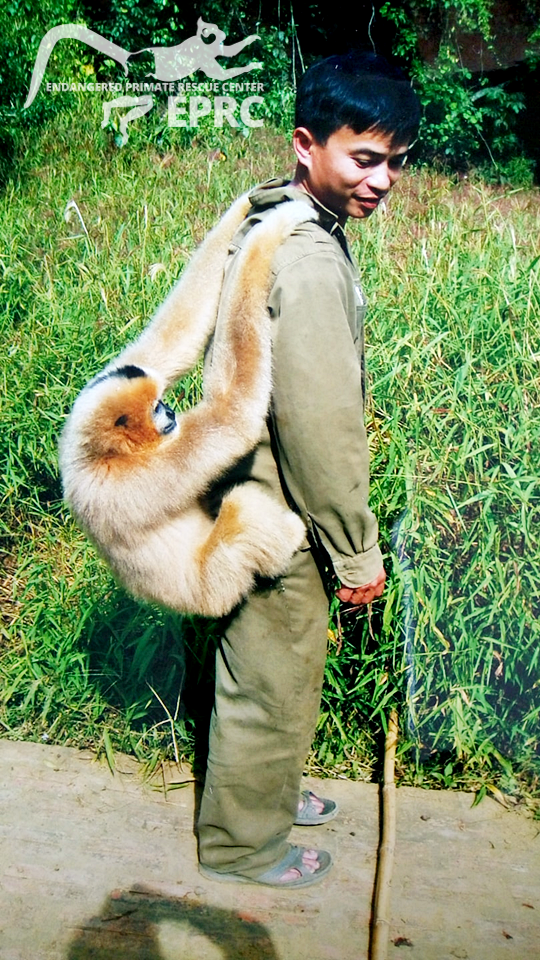 In this photo from 2010 is Mr. Vinh – one of our most skillful keepers at EPRC. 25 years ago, the number of keepers here can be counted only on the fingertips. Our facilities were not as developed and fully furnished as now. If now, it only takes us 30 minutes to call gibbons from semi-wild area for health check, in the past, it took the keepers half a day.
So many things have changed, yet our goal will never change: "To provide rescue and rehabilitation to endangered and critically endangered primates that have been confiscated from illegal wildlife trade in Vietnam.". Over the past 25 years, countless endangered primates have been rescued and released back to the wild. Lots of gibbons, langurs, and lorises have found their true home in the nature, or stay under detailed daily care of EPRC.
None of this could have been done without any of your help – from the primate lovers and EPRC donors and volunteers. We would love to send you a big warm hug on behalf of all our staffs and animals to send our greatest gratitude to your contribution. 
We will keep doing our job to protect these amazing animals until when we can! Please keep this spirit alive and keep EPRC alive by donating or volunteering at EPRC. More details can be found on our website at www.eprc.asia. Once again, Thank You for accompanying us on this difficult journey! 


(Visited 152 times, 1 visits today)