Annual Health Check-Up Time
Just a few days before the terrible tropical depression, something serious happened at our center. Every day our keepers have to call the primates from semi-wild areas back for checking their health. Suddenly on that day, a male Delacour's langur didn't appear as usual. We tried to find him for all the day, but it was impossible until late afternoon.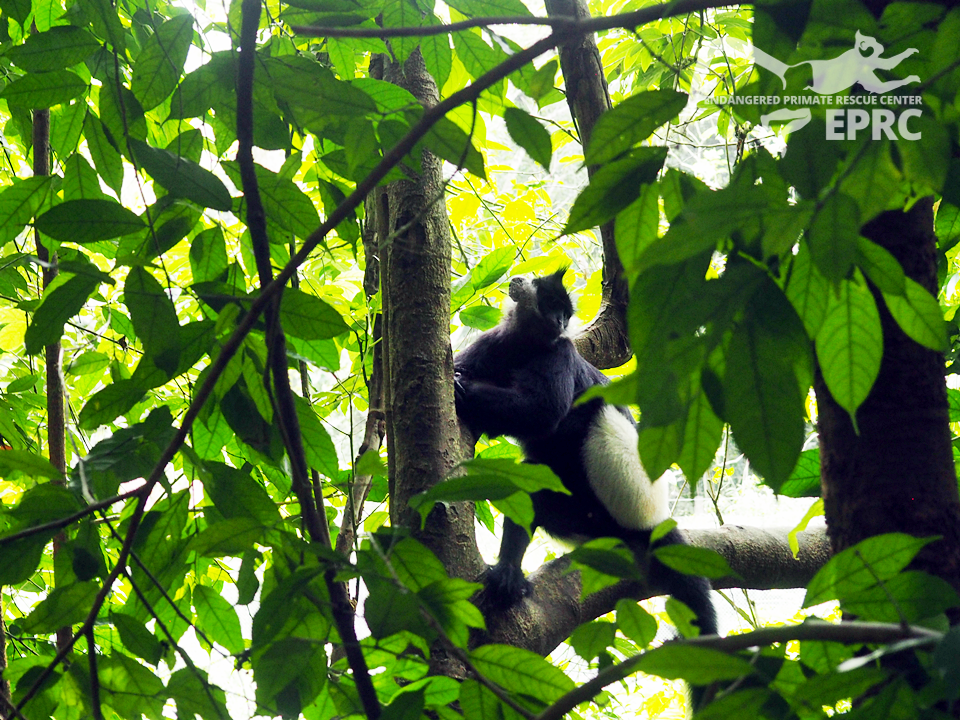 The langur wasn't as active and loud as he is normally, therefore we decided to take him to the Quarantine for further health check. The next day, an EPRC crew including Elke (Head keeper), Dr. Bonnie Raphael (veterinarian), and some keepers trekked into the semi-wild area and found the sick Delacour's langur sitting on a tree.
He wasn't surprised to see us, and our crew felt like he was there waiting for us to pick him up. After a shot of anesthesia, he fell into a keeper's embrace. The crew then searched their way through dense vegetation in the semi-wild area to get back to Quarantine area.
We suspect that this Delacour's langur probably ate some toxic plants in the semi-wild area 🙈, or he has bacterial infection or even cancer. The visible symptoms are Janndice (the photos don't do any justice though) and severe anemia. He was really weak and dehydrated. Also, his normally full stomach was empty. He was then carefully treated by Dr. Bonnie Raphael and our keepers. Later in the day, he revived a bit and started eating leaves again.
The Delacour's langur is still in the Quarantine now, until when we are certain about his health. Some of your contribution will be great to let us improve our health care system for the animals!
PLEASE CLICK BELOW TO DO SO! WE DEEPLY APPRECIATE YOUR SUPPORT TO EPRC!
(Visited 424 times, 1 visits today)