Wildlife Crimes in Vietnam
According to Tuoi Tre Online, on August 29th, the police department of Khanh Vinh district (Khanh Hoa province) prosecuted three suspects who earlier on 11/7 killed and transported 9 endangered black-shanked douc langurs illegally.
This group of three men aged from 19 to 35 all coming from M'drak district, Dak Lak province were reported to use guns to poach 9 black-shanked douc langurs in the forest, ripped their stomachs open to dry the organs before transporting dead bodies out of the forest for illegal trade.
Investigation reveals that on 11/7, the police of Khanh Vinh district found three men driving on motorbikes carrying sacks of 9 black-shanked douc langurs with each weighting from 5 to 7 kilograms. The animal bodies were Immediately confiscated, while the suspects were put in detention at the police department.
At the police department, the three suspects admitted that they carried hand-made guns into the forest to poach monkeys. At the forest area of Khanh Thanh commune, Khanh Vinh district, the group discovered a population of black-shanked douc langurs, whom they thought to be monkeys, hence bullets shot. These supposed monkeys were to be cooked into traditional medicine by this group of poachers.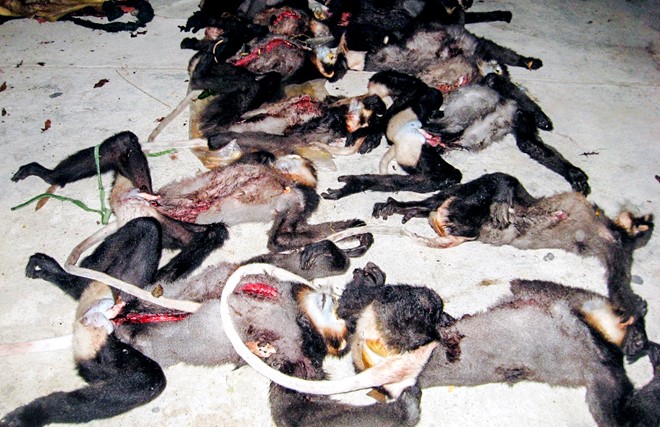 » Due to the high profitability from hunting monkeys and wildlife for the making of traditional medicine, poaching activities are still rampant in Vietnam's forests. Photo by An Bình.
According to the police, the prosecution of the three poachers were implemented after confirmation of the species of the hunted animals came in from the Institute of Tropical Biology, Ho Chi Minh city. Black-shanked douc langurs (Pygathrix nigripes) are classified in group IB – a category of rare animals protected by Vietnamese laws from exploitation or use for commercial purposes.
This is the first time a population of black-shanked douc langurs is discovered in Khanh Thanh commune's forest.
In the Endangered Primate Rescue Center, this year, we have rescued two black-shanked douc langurs aged less than 6 months old from M'Drak district, Dak Lak province. Coincidentally, the three poachers in this article come from the same area. Generally, poachers usually hunt adult monkeys or langurs because of the lucrative business of traditional medicine and bushmeat, while baby monkeys' life can be spared because selling them as pets is allegedly more profitable.
(Visited 1,352 times, 1 visits today)