Place of work: Cuc Phuong National Park
Work place: Multifaceted facility focused on rehabilitation, sanctuary and breeding of native primates
Report to: Director
Working time: Permanent position
Expected starting date: As soon as possible
Salary: Compensated based on experience

Duties:
Provide medical services for primates including 8 species of langur, 4 species of gibbon and 2 species of loris
Manage health of captive population of ~180 individuals
Diagnose disease, provide treatments and intensive care as needed
Follow protocols and aid in updating them as necessary
Be on-call for emergencies at the rescue center 24/7

Organize coverage for when you are absent

Manage diet recommendations and work with wildlife nutritionist to provide optimum nutrition for each individual and species
Provide welfare assessments routinely
Recordkeeping both manually and in ZIMS database for every case
Operate and maintain the veterinary clinic along with maintenance and quality controls of all equipment
Organize consumable supply budget and inventory
Necropsy all deceased individuals and seek cause of death
Lead in team efforts to improve both in-house and send out diagnostics
Work to enhance the capacity with the veterinary laboratory at Vietnam University of Agriculture Veterinary Medicine
Organize preventative measures to control/ limit disease outbreak in the center
Aid in education for captive team when dealing with potential zoonotic diseases
Provide medical care on site as needed to confiscated animals.
Aim to improve health care for non-releasable, ambassador animals
Implement preventative parasite screening program and deworming schedule based on the needs and priorities of the animals
Work with students and researchers to learn more about the health conditions of the animals at the center
Study, research and document case reports regularly routinely
Communicate complex cases with contact vet and/or neighboring veterinary professionals to provide the best possible care
Work with keepers to ensure animals are receiving the best possible care and train them as needed to improve quality. Respect the keepers' experience and job and work together to accomplish results.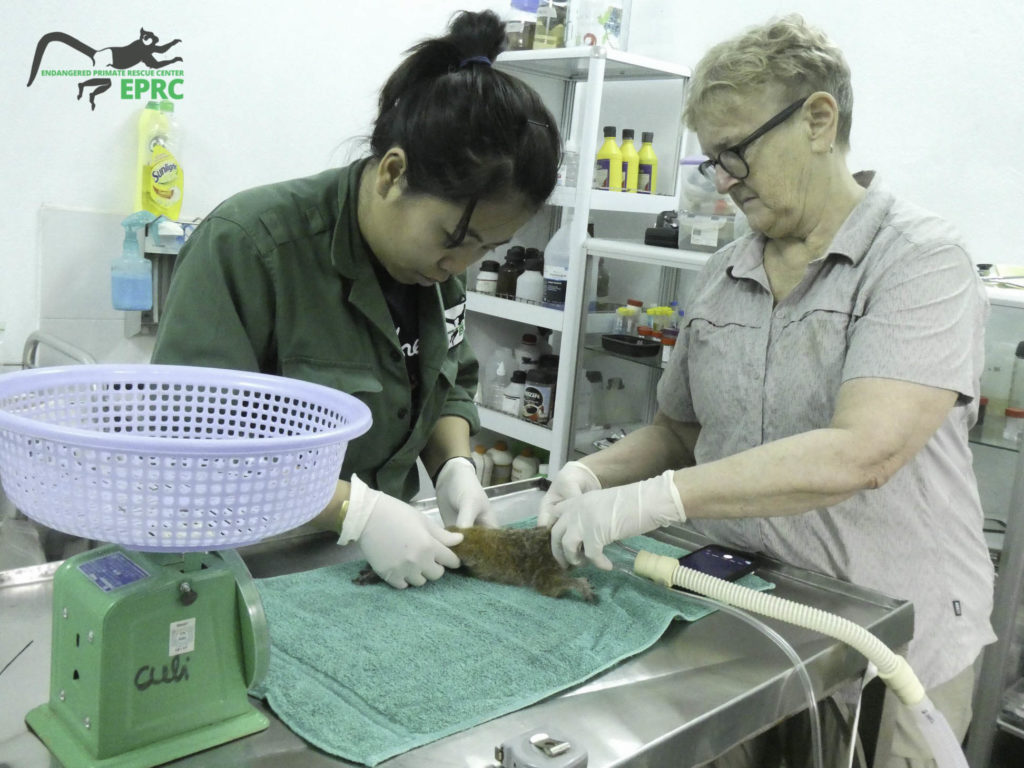 Unique Opportunities:
Help save some of Vietnam's most threatened native species from extinction
Provide care for animals that have suffered immensely and work to alleviate their pain and put them back into protected wild habitat through our rehabilitation program
Learn skills from highly experienced veterinary professionals
Participate in regularly scheduled capacity building projects for wildlife veterinary medicine
Paid travel for training and continued education each year
Present our work and mission at workshops and conferences
Find your place in the conservation medicine world!
Expectations:
Vietnamese Nationality
Bachelor's or higher degree in Veterinary Science
Highly-motivated and strong interest in learning
Positive attitude
Work well with team and volunteers
Fluent in spoken and written English; work to improve limitations
Further Information:
Prepare to work in high-stress environment
Must be flexible in work schedule due to unknown daily changes
Be prepared to withstand working conditions that evoke compassion fatigue and burnout. Come prepared to learn coping mechanisms and create a strong bond with EPRC team for support system.
May be required to work long shifts with few breaks during emergencies, rescues and over the holidays
Will be expected to support the neighboring rescue centers
How to apply:
Email your Curriculum Vitae and Cover Letter with title "EPRC Vet Applicant" to caroline.rowley@eprc.asia
Deadline: 30 Sep 2019
Phone number for contact: 033 3833581