Wildlife Crimes in Vietnam
On the morning of October 2nd, the traffic police of Thanh Hoa province discovered a suspicious load on the back of a truck driving on the 1A highway through Truong Lam commune, Tinh Gia district. Turned out, four frozen endangered Hatinh langurs were concealed in styrofoam boxes with unclear origins.
According to dantri.com.vn, at around 1 a.m on October 2nd, the traffic police was carrying out their night patrol duty when they spotted a coach driving on the highway with signs of traffic violation. On-site inspection revealed the coach was transporting many styrofoam boxes. Suspecting that illegal products could be stored inside, the police examined the boxes and found out that four frozen wildlife that appeared to be the endangered Hatinh langurs were tied up in plastic bags. Without any surprise, the driver failed to present any origin paper of the wildlife in his coach.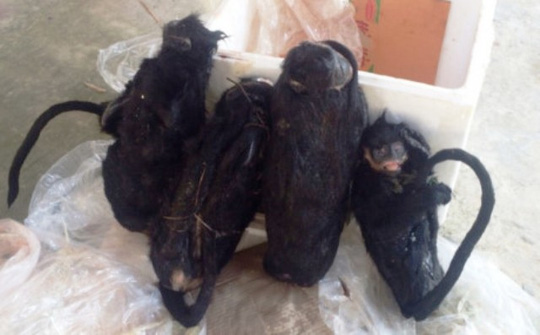 » Frozen endangered Hatinh langurs tied up by rope in plastic bags. Photo by Duy Tien.
» Police investigating the goods that appeared to be Hatinh langurs on the boxes. Photo by Duy Tuyen.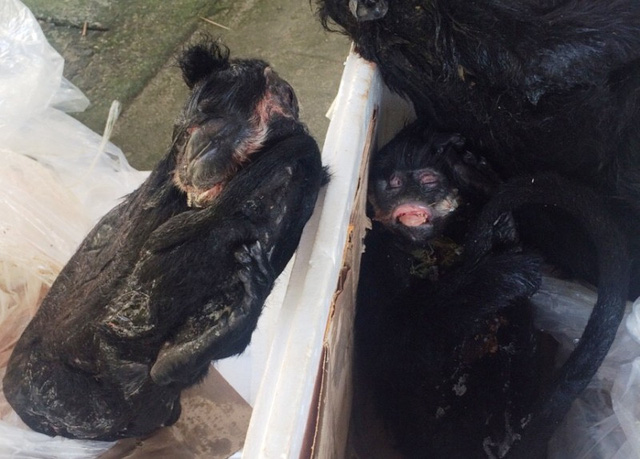 » The driver failed to present any origin paper of his goods. Photo by Tuan Minh.
The police has immediately filed a report to the Department of Forest Protection of Thanh Hoa province, awaiting for further investigation. The four individuals' species has been confirmed Hatinh langur, a highly endangered and rare primate that is protected by law in Vietnam. Due to a high profitability from illegal wildlife trade, especially in primate, poaching activities still carry on in Vietnam to meet the demand of food and traditional medicine produced from primate. Earlier this year, a man carrying a smoked Hatinh langur was caught by the police after driving his van out of Phong Nha – Ke Bang National Park, the natural habitat of this species. To find out more Vietnam's Primate News, click here.
— DON'T FORGET, YOU CAN HELP RESCUE THEM —
Call ENV's (Education for Nature–Vietnam) national toll-free Wildlife Crime Hotline 1800 1522  Email hotline@fpt.vn report a crime in Vietnam.
(Visited 142 times, 1 visits today)