Linh and Dan, a Male and Female Yellow-Cheeked Gibbons Rescued
We were called to rescue a male and female Yellow-cheeked gibbons who were held in illegal captivity for no less than a decade. After a three hours trip we reached the city of Hải Phòng, where they were living in a family house backyard in what looked like a hen house.
The family agreed to voluntarily transfer the primates after someone called our partner organization ENV wildlife crime hotline. Following the call Hai Phong Environmental Police, Hai Phong Forest Protection Department and the ward police all descended on their house to confiscate the gibbons and wait for our arrival.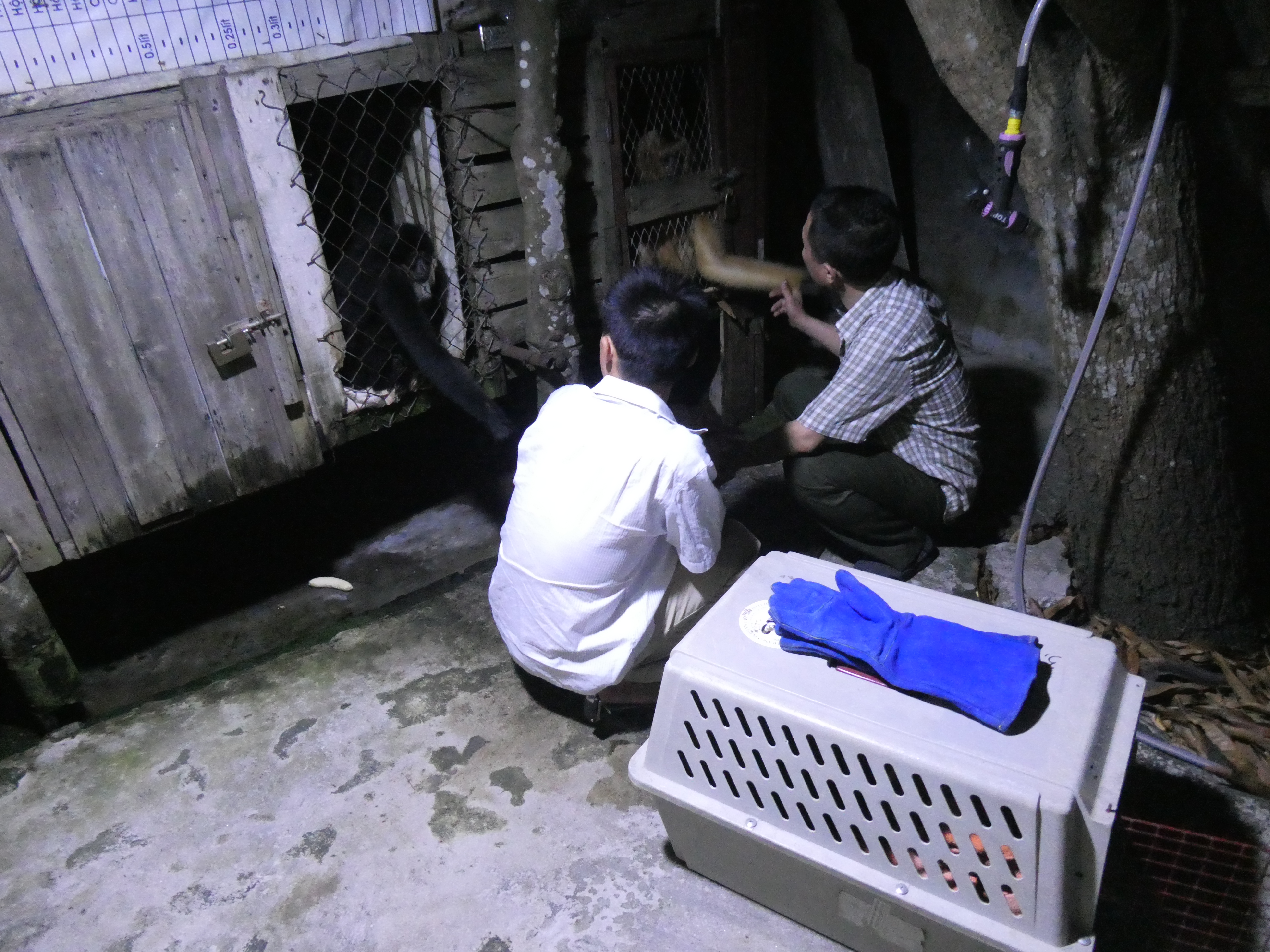 » OUR RESCUE TEAM MEETING THE GIBBONS.
Although they were not found with a major health condition issue, a lot of psychological damage has been done after they spent such a long time living under poor conditions and with close human contact. Because of the wooden walls and the narrowness of their cages they were living in the dark and with nothing to jump, swing or move around. They are underweight and presenting abnormal behaviour for wildlife, showing their back to be scratched and bumping their head frenetically on the ground.
The male has a finger missing and the female almost a whole foot, which we think could have been tangled in some loose wires in their hunter's cage and snatched or cut off. Needless to say, the story of illegal wildlife trade always begins with hunting and their parents were most likely killed in the process of their capture. In fact, for one baby primate sold on the black market, on average there are twenty others who actually die in the hunters attempts to catch it.
Our concern is that in normal conditions it takes seven to eight years for a gibbon parent to raise its offspring and teach them everything necessary to survive in the wild on their own. Our gibbons being already adults, it is going to be a long and laborious rehabilitation process for these two new EPRC residents and we are not sure they can ever find their true wild self again…
The good news is, Linh and Dan are now in good hands, recovering from all the emotion in our quarantine area and enjoying a bright, big enclosure where they can sing with their new fellow neighbors!
» THE TWO GIBBONS HELD IN THE HEN HOUSE.
» THE FEMALE DAN DISCOVERING HER NEW HOME.
— DON'T FORGET, YOU CAN HELP RESCUE THEM —
Call ENV's national toll-free Wildlife Crime Hotline 1800 1522 to report a crime in Vietnam.
(Visited 219 times, 1 visits today)