Vietnamese applications only
DURATION
1 year with opportunity to extend
SALARY
7,000,000 VND a month plus allowances (phone and transportation) 300,000 VND per month and housing support of 500,000 VND a month
START DATE
July 1 2019/ASAP
POSITION STRUCTURE
Reports directly to EPRC Director
Works with head keepers and volunteer co-ordinator to implement education programs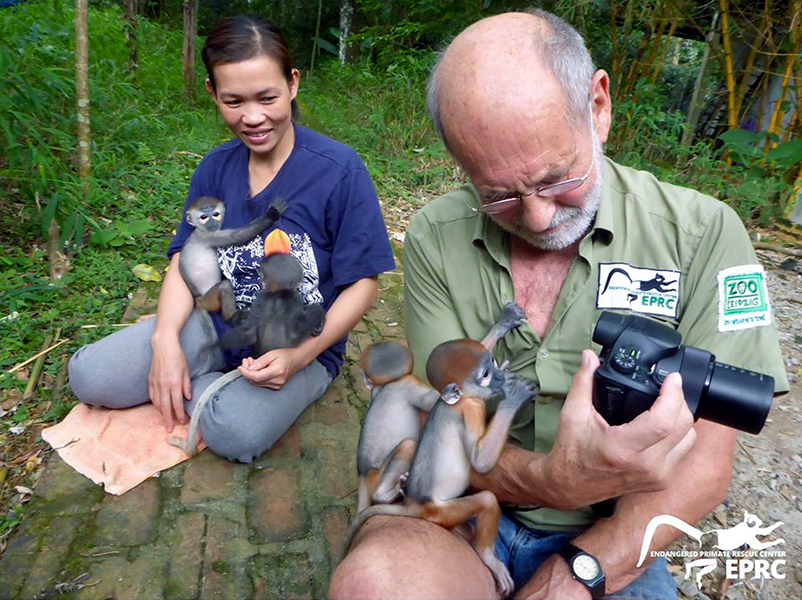 WHO WE ARE

The Endangered Primate Rescue Center, based in Cuc Phuong National Park, Ninh Binh province, is a not for profit project dedicated to the rescue, rehabilitation, breeding, research and conservation ofVietnam's endangered and critically endangered primate species.
The primary function of the EPRC is to provide rescue and rehabilitation to endangered and critically endangered primates that have been confiscated from illegal wildlife trade. We have established captive populations of highly endangered primate species, with a final aim to reintroduce and release these animals as stable family groups into well-protected natural areas. During this process we work to achieve our goals with compassion, commitment, transparency and co-operation.
We're looking for a Communication Officer to help us achieving our goals.
RESPONSIBILITIES

The Communication Officer position is a full-time position based in Cuc Phuong National Park, Ninh Binh. The employee will sign a 1 year contract to be in charge of our communication and education. The Communications Officer works directly with the Director of the EPRC to:
Maintain and update EPRC social media with creative and engaging material daily
Assist the project manager in maintaining and updating the EPRC website
Collaborate with educators at Save Vietnams Wildlife, Asian Turtle Program and Cuc Phuong National Park Conservation Awareness Program to ensure local education programs complement each other
Communicate effectively with schools to ensure positive working relationships
Host schools at the EPRC (both local and international) and plan education activities that are engaging and informative
Provide accurate translations to the managing director during various contexts
REQUIREMENTS
Vietnamese Nationals only
Fluent in Vietnamese and English- able to provide written translation and fluent in conversational English in an international environment
Strong interpersonal skills and the ability to work independently
Experience in environment and/or wildlife conservation non-profit organizations preferred
Entry level experience in communication, particularly in social media platforms
Knowledge or experience in webmastering and CMS/wordpress
Interest in graphic design, photography, and video editing
Willingness to develop education campaigns and support
Possess a willingness to learn new skills
Able to manage priorities and meet deadlines
Accountability and honesty
Patience and flexibility
BENEFITS
Working for an NGO that protects wildlife
Working in an English speaking environment
Working in an office based in beautiful Cuc Phuong National Park
Possible opportunities for work trips around Vietnam and internationally
Various communication learning opportunities from international consultants and advisors
HOW TO APPLY
Send a cover letter and a recent CV, in English and Vietnamese to caroline.rowley@eprc.asia
Applications close on the 1st of JUNE 2019.
(Visited 365 times, 1 visits today)