GENERAL/VOLUNTEERS COORDINATOR
DURATION
1 year with opportunity to extend
SALARY
7,000,000 VND a month plus allowances (phone and transportation) 300,000 VND per month and housing support of 500,000 VND a month
START DATE
July 1, 2019 / ASAP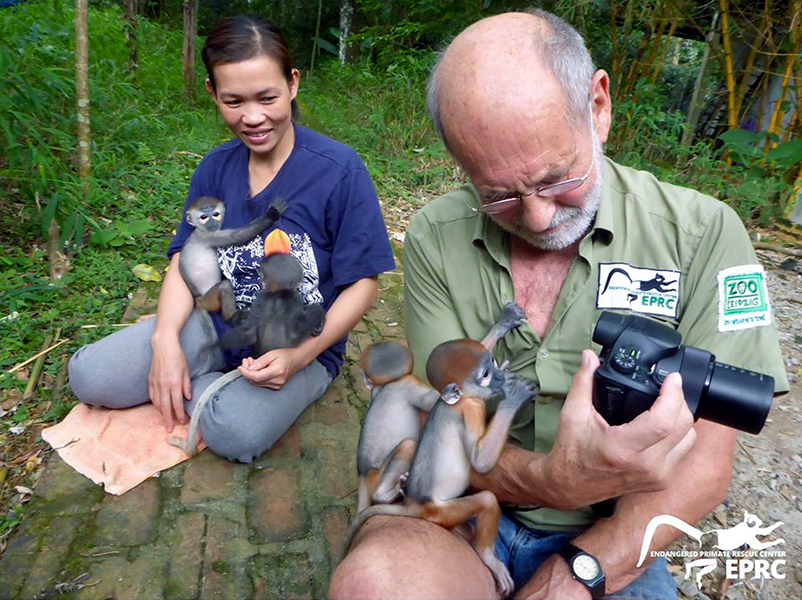 WHO WE ARE

The Endangered Primate Rescue Center, based in Cuc Phuong National Park, Ninh Binh province, is a not for profit project dedicated to the rescue, rehabilitation, breeding, research and conservation ofVietnam's endangered and critically endangered primate species.
The primary function of the EPRC is to provide rescue and rehabilitation to endangered and critically endangered primates that have been confiscated from illegal wildlife trade. We have established captive populations of highly endangered primate species, with a final aim to reintroduce and release these animals as stable family groups into well-protected natural areas. During this process we work to achieve our goals with compassion, commitment, transparency and co-operation.
Furthermore, over the past few years, we have an increased interest from people both in Vietnam and internationally to come and volunteer at our center, which helps to support us financially, as well as increasing capacity, and we want to ensure that all volunteers can contribute to our mission whilst having a memorable stay here in Vietnam.
We're currently looking for a general coordinator (with emphasis on working with volunteers) to help us in achieving our goals.
RESPONSIBILITIES

The Volunteer coordinator position is a full-time position based in Cuc Phuong National Park, Ninh Binh. The employee will sign a 1-year contract to be in charge of our Volunteer Programs.
The coordinator will report directly to the Director of the EPRC, and work together with Animal Husbandry staff of the EPRC and staff from the Cuc Phuong National Park Tourism department to ensure the EPRC volunteers have a safe, fun and educational experience.
DUTIES INCLUDE BUT ARE NOT LIMITED TO:
Coordinating volunteers and researchers within the center
Manage all volunteer enquiries, providing timely and accurate information.
Work under the direction of EPRC administration staff to arrange all services for volunteers including: Visas, transportation, accommodation and food.
Work with the Communications specialist toprovide regular updates for the EPRC Volunteer Facebook page and the EPRC website.
Work with the communications specialist to continue engagement of volunteers after they return home with an aim to develop our volunteer community overseas.
Develop and implement additional activities for volunteers after working hours.
Work alongside the EPRC director to develop new specialized volunteer experiences including day trips, and student placements.
Liaison with the other wildlife rescue centres within Cuc Phuong NP.
Attending meetings with Director, National Park and Head keepers and providing translation and interpretation when necessary.
Acting as an official representative of EPRC at conferences or similar events when necessary (occasional)
Composing official EPRC documents, and providing Vietnamese translations for website and Facebook posts.
Tour guiding at the EPRC and Van Long Nature Reserve and helping organise group activities such as educational school visits within the center.
Co-managing the EPRC souvenir sales.
REQUIREMENTS: Essential
Proficient in English (B2, IELTS 6.0, TOEFL 80) and Vietnamese with an emphasis on verbal communication.
Possess a high level of interpersonal strengths and abilities, including self-motivation, self-confidence, the ability to work unsupervised and communication skills both writtenand verbal.
Comfortable working outdoors and living in remote area.
Possess a willingness to learn new skills and develop a close working relationship with our animal keeping staff
Possess an independent problem-solving skill to achieve EPRC goals
Accountability and honesty
Patience and flexibility
REQUIREMENTS: Desirable
Demonstrated ability to interact with people from various cultures.
Previous experience in tourism.
Experience working with wildlife conservation, animal rescue or biological sciences.
HOW TO APPLY
Send a cover letter and a recent CV, in English and Vietnamese with subject heading 'Volunteer coordinator' to the EPRC: info@eprc.asia
(Visited 114 times, 1 visits today)