Objective: Support the veterinary program in enhancement through prioritized projects to develop clinical, laboratory and management skills and clinical education for the Vietnamese veterinarians at Endangered Primate Rescue Center.
About the Organization:
The Endangered Primate Rescue Center is a not for profit project dedicated to the rescue, rehabilitation, breeding, research and conservation of Vietnam's endangered and critically endangered primate species. First established in 1993, through a collaboration between Frankfurt Zoological Society and Cuc Phuong National Park, the center is presently managed under the umbrella of the Vietnam Primate Conservation Program, jointly operated by Zoo Leipzig and Cuc Phuong National Park. More than 180 animals have been born at the center, some being the first of their species to be born in captivity, including the critically endangered Cat Ba Langur, Delacour's Langur, and the Grey-Shanked Douc Langur.
Today the center is home to around 180 primates representing 15 species. The primates are housed in more than 50 large enclosures including two fenced semi-wild areas of primary forest, measuring 2 and 5 hectares in size. These enclosures serve to prepare animals for release into the wild and provide opportunities to study the behavior of animals in semi-wild conditions. The EPRC currently employs 31 staff both from the local community and abroad.
Work place: Endangered Primate Rescue Center, Cuc Phuong National Park, Nho Quan, District, Ninh Binh Province
Report to: Director 
Working time: 6 months (possibility to extend)
Expected starting date: As soon as possible (rolling application process)
Salary: Minimal. To be discussed. 
Expectations:
Identify areas needing improvement in veterinary capacity. Focus attention on improving those areas of weakness.
Improve the quality of veterinary care provided for animals to increase survivability of rehabilitation so we can release more stable animals back into the wild and improve the welfare of our sanctuaried animals
Support capacity building projects with contracted professional volunteers to aid in enhancement of the practice
Educate Vietnamese staff to ensure true understanding of the capacity building initiative in order to evoke sustainable change in the practice
Aid in the fundraising/ grant writing process for these projects to launch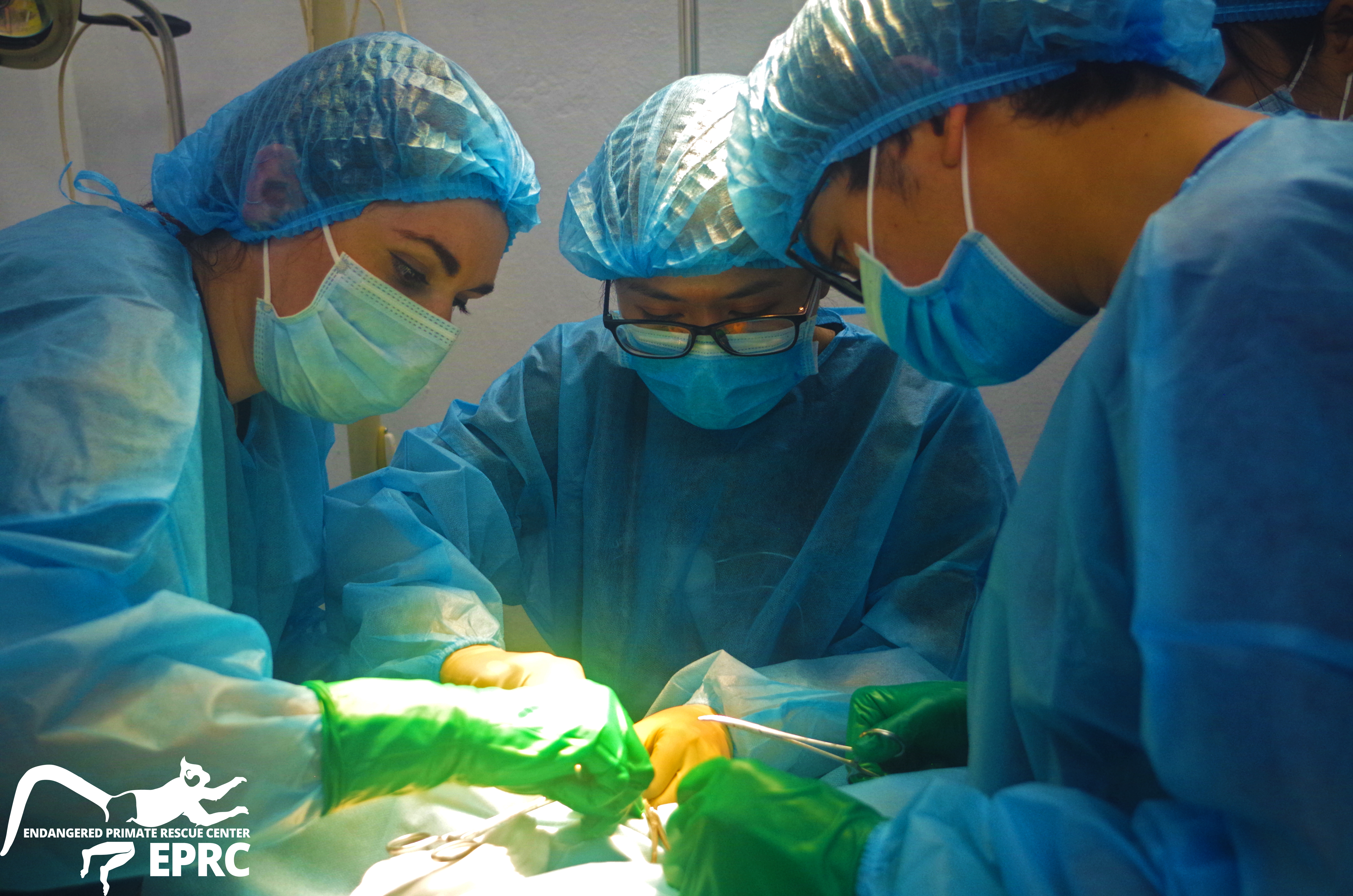 Primary Duties :
Lead team in coordinating daily tasks and carrying out the functions of the practice
Prioritize welfare of patient over everything else
Train and educate Vietnamese veterinarians in improved medical management and patient care
Diagnose disease, provide treatments and intensive care as needed
Follow protocols and aid in updating them as necessary
Be on-call for emergencies at the rescue center
Co-manage diet recommendations and work with abroad wildlife nutritionist to provide optimum nutrition
Recordkeeping both manually and in ZIMS database for every case
Operate and maintain the veterinary clinic along with maintenance and quality controls of all equipment
Necropsy all deceased individuals and seek cause of death
Aid in team efforts to improve both in-house and send out diagnostics
Work to enhance the capacity with the veterinary laboratory at Vietnam University of Agriculture Veterinary Medicine
Organize preventative measures to control/ limit disease outbreak in the center
Aid in education for captive team when dealing with potential zoonotic diseases and improve biosecurity protocols
Aid in Disease Risk Analysis
Requirements:
Graduation from an accredited veterinary or veterinary nurse/technician program
Licensed or registered to practice
Up to date rabies and tetanus vaccines
TB test within the last year
Experience in a zoo or wildlife rehabilitation facility
Teaching experience
Must be flexible and patient
Must work with cultural sensitivity and respect
How to apply:
Email resume and cover letter to caroline.rowley@eprc.asia and jessica@svw.vn
If you do not have the ability to carry out a major project, but have an idea of how you could support our capacity building, email your idea(s) to jessica@svw.vn & caroline.rowley@eprc.asia
Contact: Director – Caroline Rowley: caroline.rowley@eprc.asia
(Visited 1,112 times, 1 visits today)